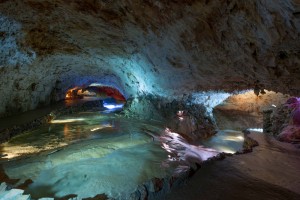 In the heart of the Vercors region, between Grenoble and Valence, Choranche cave will awake your explorer soul and will take you in another dimension for a travel rich in emotions and sensations.
This crystalline and blazing cave is hidden in the luxuriant nature of the Choranche Cirque. At the foot of the high limestone cliffs, the Choranche cave overlooks the Bourne Gorges. Let yourself drift...
The waters of the underground lakes and rivers flood the crystal whiteness of the rock formations with emerald green reflections.
A journey through time, back to more than 70 million years ago... During the tour, your eyes may catch sight of a cave dwelling animal which is a survivor from the prehistoric era: the Olm...
The reputation and natural beauty of the Choranche Cave will not disappoint you!
Choranche cave's website