Welcome in stopover accommodation: your stay in the gîte, schedules…
The gîte des Rimets welcomes diverse people, staying either for a stopover or a longer stay. Everyone will feel like home while reading by the fire side, while sharing the aperitif during darts, while preparing the itinerary for the day after, while playing cards or while taking a nap after a long hike…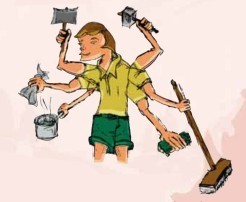 Before dinner, I ring the bell (to wake up the one resting on the last floor). You share all together a pleasant moment of sharing and conviviality around a delicious meal home cooked.
Then, the ones staying up late will be careful to the quiet of the others and not going upstairs with heels or clogs. Talking about that, don't forget your flip flop or slippers as shoes are forbidden upstairs.
You will enjoy the gîte des Rimets for its comfort, the quiet, the simple, nature and warm atmosphere.