The gîte's rooms and the dormitory
The gîte des Rimets, with a maximum capacity of 19 people, offers 4 bedrooms and a 6-bed dormitory. You will enjoy the high quality bedding. Opinions are unanimous: "we sleep very well in the Rimets".

The 4 spacious and comfortable bedrooms are located on the first floor. They all have their own private bathroom with a shower and a washbasin. The late sleepers will enjoy the wood blinds enabling not to be woken up by the day light. Two separated toilets are located on the landing.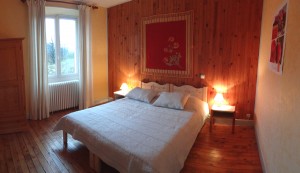 The "undergrowth" bedroom :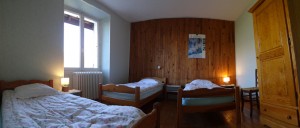 The "wintry weather" bedroom :
3 single beds, 15m²
Winter colors and East orientation with a view on the Rencurel cliffs. Of course, this bedroom is heated as well the others.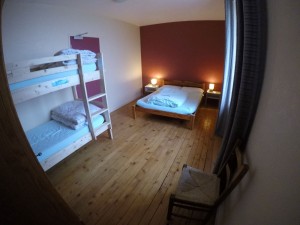 The "mountain summer pasture" bedroom :
Family bedroom with a double bed and 2 single beds, 20m²
An air of summer, East orientation for the 2 windows in the bedroom and the bathroom with a panoramic view on the wooded valley, the Gonson Rocks and the peak line.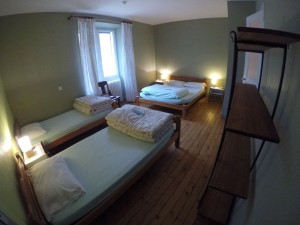 The "alpine pasture" bedroom :
Family bedroom with a double bed and 2 single beds, 19m²
On the 2nd floor, you will find the 6-bed dormitory with an adjacent bathroom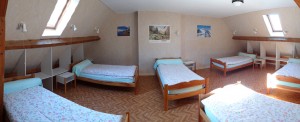 "The nest box":
Dormitory of 30m² with 6 single beds (no bunk beds)
2 showers, 3 washbasins, and 2 toilets
2 sky lights with an East and West orientation with obscure blinds
Diaporama photos